Shop for professional YKK Zippers in our WAWAK zipper shop. Individual, bulk and wholesale zippers.

WAWAK Sewing Supplies has Zippers in a variety of materials, zipper tooth sizes, zipper tape colors and lengths - we even sell zippers by the yard. We carry YKK branded and Italian-made zippers. Zippers are available in Open Bottom (Separating), Closed Bottom (Non-Separating), Reversible, One-Way and Two-Way styles. Choose from Aluminum Zippers, Antique Brass Zippers, Black Oxide Zippers, Brass Zippers, Invisible Nylon Zippers, Nickel Zippers, Nylon Coil Zippers, Plastic Zippers and Water-Repellent Zippers. Shop our large selection of Jacket Zippers, Pant, Skirt & Dress Zippers, Purse & Handbag Zippers and Specialty Zippers. We can help you keep things zipped up with Zipper Lubricant, Zipper Parts and a huge selection of Zipper Sliders. With more than 24,000 products in stock and ready to ship, and great pricing, we are your one-stop supplier for all your sewing needs.
Frequently Asked Questions About Zippers



How do I know what size zipper I need?

Choose a zipper weight that makes sense for the size of your project and the weight of your fabric. A higher zipper tooth size means a larger zipper. If you're replacing an existing zipper, you can also check the back of the zipper slider or measure it in milimeters to find the size.

Do I need a special foot to sew a zipper?

While you can sew a zipper with a regular foot, using a zipper foot is much easier. A zipper foot allows you to sew very closely to the zipper teeth in a smooth, straight line.

Can you just cut a zipper to size?

If a zipper is too long, you can cut it to any size and close off the new end with a zipper stop (or two zipper stops, for separating zippers). If using a metal zipper, be sure to remove some of the teeth with pliers before cutting to avoid damaging your scissors.

What material zipper should I get?

It depends on your project! Nylon Coil works the best for curved seams, tolerating horizontal stress, and as a general-use zipper. For straight seams, heavy materials, and an upscale look, a Metal Zipper is a good fit. Molded Plastic zippers are commonly used in outdoor, kid's, and casual clothing. Or use an Invisible Zipper anytime you'd prefer a hidden zipper, like in formal wear.
What Do Our Customers Think?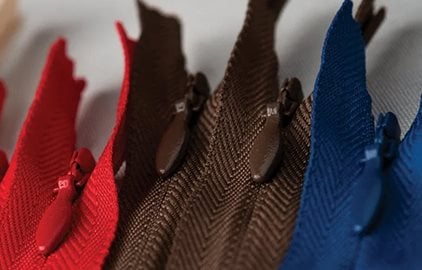 GOOD PRICE; NICE ASSORTMENT
★★★★★
I like buying the assorted packs. They are a very good price, and I like the assortment of colors.
- Christina H.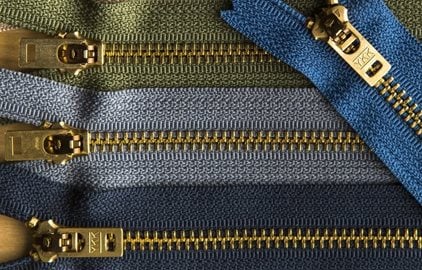 AMAZING QUALITY
★★★★★
These zippers by YKK are amazing and extremely robust. I've purchased many great generic zippers from my local fabric stores and none of them compare to the durability and quality of YKK. The quality can easily be felt with a single touch. If a blind-fold test were conducted and one was asked to select the best-quality zipper from YKK and other generic brands by only the touching and opening and closing the zipper, the YKK brand would come out on top. I'd definitely recommend this zipper to anyone.
- Anonymous