25-Bobbin Box - Clear
{{resource("/ProductPage/Labels/StockNumber")}}

{{displayVariant.DisplayCode}}
{{resource("/ProductPage/Labels/List")}}
$8.19
---
{{resource("/ProductPage/Labels/Sale")}}
${{displayVariant.Price.PurchasePrice | toDisplayFormat}}
{{resource("/ProductPage/Labels/Was")}}
${{displayVariant.Price.WasPrice | toDisplayFormat}}
{{resource("/ProductPage/Labels/List")}}
${{displayVariant.Price.ListPrice | toDisplayFormat}}
{{displayVariant.PromotionalText}}
---
{{resource("/ProductPage/Labels/Options")}}
---
{{displayVariant.InventoryStatus}}
{{format(resource("/Shared/Label/EstimatedArrivalDate"),displayVariant.ShippingEstimate)}}
{{format(resource("/Shared/Label/BackOrderedEstimatedArrivalDate"),displayVariant.ShippingEstimate)}}
{{format(resource("/Shared/Label/DiscontinuedOutOfStockEstimatedArrivalDate"),displayVariant.ShippingEstimate)}}
{{resource("/ProductPage/Labels/VolumePricingHeader")}}
{{resource("/Shared/Label/QuantityTable/Qty")}}

{{volumePrice.Quantity}}+ {{resource("/Shared/Label/QuantityTable/Each")}}

{{volumePrice.Quantity}}+

{{resource("/Shared/Label/QuantityTable/Price")}}

${{volumePrice.Price.Amount | toDisplayFormat}}

{{resource("/Shared/Label/QuantityTable/Save")}}

—

{{volumePrice.Save | toDisplayFormat}}%
{{format(resource('/ProductPage/Labels/SoldInIncrementOf'),displayVariant.SoldInIncrements)}}
{{format(resource("/ProductPage/Labels/MinimumOrderQuantity"),displayVariant.MinimumOrderQuantity)}}
Quality made sewing notions.
The Dritz bobbin box holds 25 bobbins. The thread colors are visible through the box and the lid fits on bottom of the box when open. Note bobbins/thread not included.
Features
Holds up to 25 bobbins
Clear plastic case so you can easily see your colored bobbins
Heavy-duty, clear plastic case
Lid fits on bottom of the box when open
Product Specifications
Size / Dimension:
5" L x 4-1/8" W x 1 1/8" H
Use Bobbin Holders To Stay Organized
Keep bobbins neatly organized and prevent unraveled or tangled bobbin thread with Bobbin Holders. Bobbin Holders and Bobbin Boxes make excellent storage for your wound bobbins—when in storage, individual bobbins are visible and easily accessible, so you can quickly see and select the color you need without unwinding the others. Bobbin Boxes are also enclosed to protect bobbins from accumulating dust while in longer-term storage. Choose from several styles of bobbin organizers, including bobbin boxes, bobbin storage cases, bobbin savers, and more to keep your sewing workspace in top shape.
Thread Storage, Bobbin Holders and More Sewing Storage Options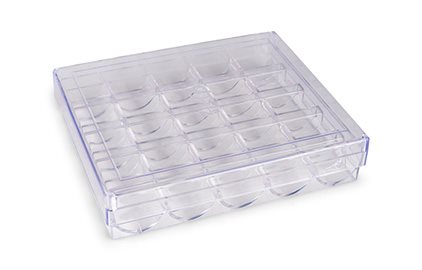 Bobbin Holders & Boxes
Choose from a variety of bobbin holder styles to keep wound bobbins in order and prevent unraveling and tangling.
Shop Now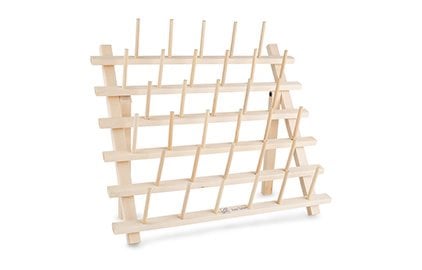 Sewing Thread Racks & Thread Holders
Keep thread spools or thread cones organized and easily accessible with a thread rack, pegboard, or other thread holder.
Shop Now
Sewing Storage
Choose from other all-purpose sewing storage options, excellent for storing a variety of sewing notions including needles, buttons, and more.
Shop Now