YKK #5 22" Invisible Nylon Pant / Skirt / Dress / Upholstery Zipper - Army Green
{{resource("/ProductPage/Labels/StockNumber")}}

{{displayVariant.DisplayCode}}
{{resource("/ProductPage/Labels/List")}}
$7.90
-
$12.42
---
{{resource("/ProductPage/Labels/Sale")}}
${{displayVariant.Price.PurchasePrice | toDisplayFormat}}
{{resource("/ProductPage/Labels/Was")}}
${{displayVariant.Price.WasPrice | toDisplayFormat}}
{{resource("/ProductPage/Labels/List")}}
${{displayVariant.Price.ListPrice | toDisplayFormat}}
{{displayVariant.PromotionalText}}
---
{{resource("/ProductPage/Labels/Options")}}
---
{{displayVariant.InventoryStatus}}
{{format(resource("/Shared/Label/EstimatedArrivalDate"),displayVariant.ShippingEstimate)}}
{{format(resource("/Shared/Label/BackOrderedEstimatedArrivalDate"),displayVariant.ShippingEstimate)}}
{{format(resource("/Shared/Label/DiscontinuedOutOfStockEstimatedArrivalDate"),displayVariant.ShippingEstimate)}}
{{resource("/ProductPage/Labels/VolumePricingHeader")}}
{{resource("/Shared/Label/QuantityTable/Qty")}}

{{volumePrice.Quantity}}+ {{resource("/Shared/Label/QuantityTable/Each")}}

{{volumePrice.Quantity}}+

{{resource("/Shared/Label/QuantityTable/Price")}}

${{volumePrice.Price.Amount | toDisplayFormat}}

{{resource("/Shared/Label/QuantityTable/Save")}}

—

{{volumePrice.Save | toDisplayFormat}}%
{{format(resource('/ProductPage/Labels/SoldInIncrementOf'),displayVariant.SoldInIncrements)}}
{{format(resource("/ProductPage/Labels/MinimumOrderQuantity"),displayVariant.MinimumOrderQuantity)}}
Premium Pro-Line YKK Zippers.
YKK #5 invisible nylon zippers are ideal for use on bridal and formal gowns. Features a tooth size of 5 (5 mm), tooth color matches zipper, 3/4" top/bottom extension and the slider has an automatic lock. Available in a variety of colors and lengths. Please note: actual colors may vary from picture due to computer setting variances. YKK is a registered trademark of YKK Corporation in Japan and other countries/regions.
Features
Non-separating (closed-end) zipper
Ideal for bridal gowns
Concealed zipper
Automatic lock slider
Product Specifications
Material:
Nylon Teeth, Polyester Tape
Size / Dimension:
22" L x 1 1/4" W
Using Invisible Zippers
An invisible zipper, also known as a concealed zipper, is an elegant and functional closure for the garment of your choice. The unobtrusive design of these nylon zippers makes them perfect for formal garments like blouses, pants, skirts, and dresses, as well as home furnishings like pillows and cushions. Unlike most zippers, an invisible zipper is sewn into the seam before it is finished in order to make sure the fabric lies flat at the seam. For best results, an invisible zipper should be installed using an Invisible Zipper Sewing Machine Foot.
Invisible Nylon Zippers Available in 3 Tooth Sizes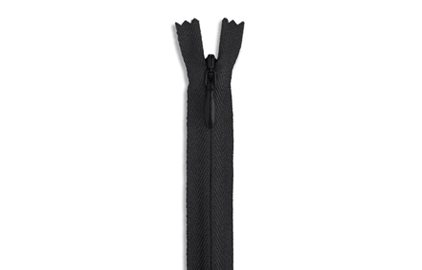 #2 Invisible Zippers
Ideal for pants, skirts and dresses. The lightest of the invisible zippers. Its unobtrusive design allows for a functional closure that doesn't interrupt the flow of your design, making it the perfect finisher for many formal garments like pants, skirts and dresses. Available in a variety of lengths and up to 130 Colors.
SHOP NOW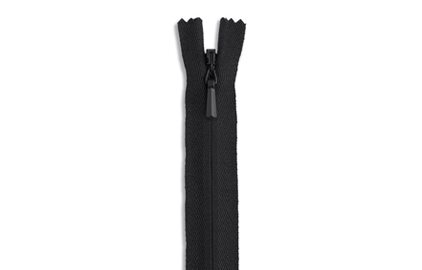 #3 Invisible Zippers
Ideal for bridal gowns, formal gowns, pillows and duvet covers. Because the concealed zipper allows the seam to lie flat, it can be used to close medium-weight projects from gowns to cushions or pillows with a flat, clean finish. Available in a variety of lengths and up to 130 colors.
SHOP NOW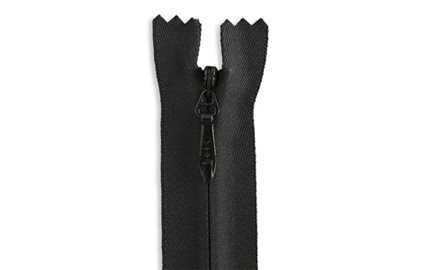 #5 Invisible Zippers
Ideal bridal gowns, pillows and upholstery. Our largest invisible zippers. This invisible zipper creates an elegant finish while also being sturdy enough to hold up to the heavier fabrics and horizontal stress found in close-fitting garments (like bridal gowns) and upholstery. Available in a variety of lengths and up to 28 colors.
SHOP NOW