Gutermann Mara 50 rPet 100% Recycled Polyester Thread - Tex 60 - 546 yds. - #000
{{resource("/ProductPage/Labels/StockNumber")}}

{{displayVariant.DisplayCode}}
$2.88
{{resource("/ProductPage/Labels/List")}}
$3.50
---
{{resource("/ProductPage/Labels/Sale")}}
${{displayVariant.Price.PurchasePrice | toDisplayFormat}}
{{resource("/ProductPage/Labels/Was")}}
${{displayVariant.Price.WasPrice | toDisplayFormat}}
{{resource("/ProductPage/Labels/List")}}
${{displayVariant.Price.ListPrice | toDisplayFormat}}
{{displayVariant.PromotionalText}}
---
{{resource("/ProductPage/Labels/Options")}}
---
{{displayVariant.InventoryStatus}}
{{format(resource("/Shared/Label/EstimatedArrivalDate"),displayVariant.ShippingEstimate)}}
{{format(resource("/Shared/Label/BackOrderedEstimatedArrivalDate"),displayVariant.ShippingEstimate)}}
{{format(resource("/Shared/Label/DiscontinuedOutOfStockEstimatedArrivalDate"),displayVariant.ShippingEstimate)}}
{{resource("/ProductPage/Labels/VolumePricingHeader")}}
{{resource("/Shared/Label/QuantityTable/Qty")}}

{{volumePrice.Quantity}}+ {{resource("/Shared/Label/QuantityTable/Each")}}

{{volumePrice.Quantity}}+

{{resource("/Shared/Label/QuantityTable/Price")}}

${{volumePrice.Price.Amount | toDisplayFormat}}

{{resource("/Shared/Label/QuantityTable/Save")}}

—

{{volumePrice.Save | toDisplayFormat}}%
{{format(resource('/ProductPage/Labels/SoldInIncrementOf'),displayVariant.SoldInIncrements)}}
{{format(resource("/ProductPage/Labels/MinimumOrderQuantity"),displayVariant.MinimumOrderQuantity)}}
100% RECYCLED SEWING THREAD
Made from 100% recycled PET bottles, Gutermann Mara 50 provides a shiny, silk-like appearance that provides a distinct feature to a variety of applications. Thread is both rub and abrasion resistant and its fine cross-section allows for smooth and lint-free uniform seams. Ideal for bags, backpacks, suitcases, leather goods, textiles, and more. Available in a variety of colors. Please note: actual colors may vary from picture due to computer setting variances.
Features
Made from 100% recycled material
Shiny, silk-like sheen
Rub & abrasion resistant
Dust and lint-free
Tex 60
Product Specifications
Material:
Recycled Polyester
Size / Dimension:
546 yds., TEX 60
Gutermann Mara rPET Thread Weights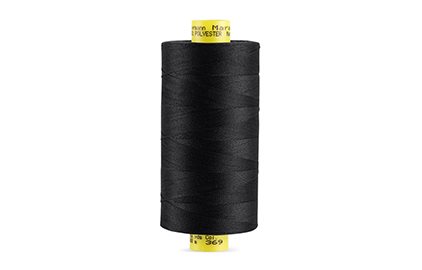 Mara rPET 100 (Tex 30)
Comparable to our best-selling Gutermann Mara 100. This all-purpose Tex 30 recycled thread is ideal for closing and holding seams for light and medium fabric weights. An excellent choice for most garment sewing.
Recommended Needle Size: 10-12
Shop Now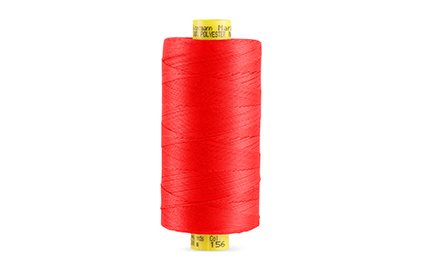 Mara rPET 50 (Tex 60)
This thread suitable for heavy-weight fabrics and materials. Choose this Tex 60 recycled polyester thread for closing seams on medium-to-heavy garments, small leather goods, and decorative topstitching.
Recommended Needle Size: 14-18
Shop Now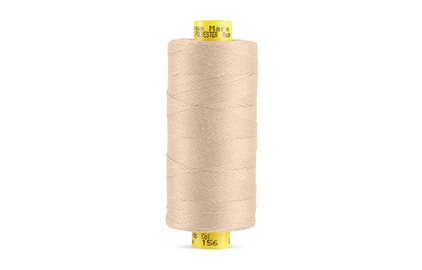 Mara rPET 30 (Tex 100)
Tex 100 extra heavy-weight thread. These 100% recycled polyester threads are ideal for decorative seams and topstitching on projects such as jeans, shoes, buttonholes, and leather goods.
Recommended Needle Size: 18-21
Shop Now
100% Recycled Threads For All Purpose Sewing
Are you looking to use more sustainable materials in your sewing? Gutermann Mara rPET threads are made with 100% recycled materials and offer the same premium quality that you expect from Gutermann Threads. These 100% recycled polyester threads are sourced entirely from PET plastic bottles. Mara rPET threads are manufactured using the same advanced process that gives Gutermann Mara Threads unparalleled uniformity, sewability, and shine. They are comparable to standard Gutermann Mara threads in appearance and sewability and are a suitable alternative in almost any application.