Solid Brass/Nickel Plated Open Thimble - Size 5
{{resource("/ProductPage/Labels/StockNumber")}}

{{displayVariant.DisplayCode}}
{{resource("/ProductPage/Labels/Sale")}}
${{displayVariant.Price.PurchasePrice | toDisplayFormat}}
{{resource("/ProductPage/Labels/Was")}}
${{displayVariant.Price.WasPrice | toDisplayFormat}}
{{resource("/ProductPage/Labels/List")}}
${{displayVariant.Price.ListPrice | toDisplayFormat}}
{{displayVariant.PromotionalText}}
---
{{resource("/ProductPage/Labels/Options")}}
---
{{displayVariant.InventoryStatus}}
{{format(resource("/Shared/Label/EstimatedArrivalDate"),displayVariant.ShippingEstimate)}}
{{format(resource("/Shared/Label/BackOrderedEstimatedArrivalDate"),displayVariant.ShippingEstimate)}}
{{format(resource("/Shared/Label/DiscontinuedOutOfStockEstimatedArrivalDate"),displayVariant.ShippingEstimate)}}
{{resource("/ProductPage/Labels/VolumePricingHeader")}}
{{resource("/Shared/Label/QuantityTable/Qty")}}

{{volumePrice.Quantity}}+ {{resource("/Shared/Label/QuantityTable/Each")}}

{{volumePrice.Quantity}}+

{{resource("/Shared/Label/QuantityTable/Price")}}

${{volumePrice.Price.Amount | toDisplayFormat}}

{{resource("/Shared/Label/QuantityTable/Save")}}

—

{{volumePrice.Save | toDisplayFormat}}%
{{format(resource('/ProductPage/Labels/SoldInIncrementOf'),displayVariant.SoldInIncrements)}}
{{format(resource("/ProductPage/Labels/MinimumOrderQuantity"),displayVariant.MinimumOrderQuantity)}}
PROTECT YOUR FINGER.
Open top thimbles protect your finger while hand sewing. Available in a variety of sizes,
Features
Perfect for hand sewing
Open top
Protect you finger while hand sewing
Product Specifications
Material:
Nickel Plated Brass
Thimbles for Smooth Hand Sewing
We know that hand sewing takes time, and how important it is to make sure you have the right tools to do so quickly and comfortably. A must-have for every hand sewer, a Sewing Thimble is the tool to do just that. Thimbles are usually worn on the middle finger to push the needle through the fabric—doing so allows you to hand sew more quickly and with more dexterity and control. Choose from a variety of thimbles and finger shields, including Leather Thimbles, Metal Thimbles, or Plastic Thimbles, to help you create your best work yet.
Styles of Sewing Thimbles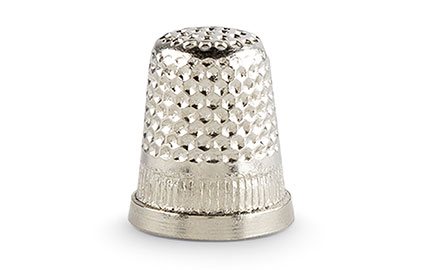 The Strongest Sewing Thimbles
Metal Thimbles are rigid and durable, great for hand sewing heavier fabrics and leather or vinyl. Available in Brass or Nickel-Plated Brass. Choose from open and closed styles.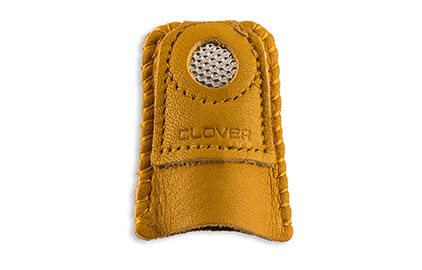 Sewing Thimbles with a Natural Fit
Leather Thimbles are durable yet flexible, and will mold to the shape of your finger over time for a more natural and comfortable fit. Choose from open and closed styles.
Open vs. Closed Sewing Thimbles
What is the difference between a closed and open thimble? Closed thimbles have a closed top, meaning they cover the whole fingertip. Closed Thimbles give the advantage of extra protection of the fingertip, and more of the middle finger can be used to push the needle through fabric. Open Thimbles, also known as Tailor's Thimbles, have an opening in the top which leaves the fingertip exposed, giving the wearer a bit more control and ability to manipulate fabric with the middle finger. The open top also prevents perspiration from collecting in the thimble when sewing for long periods of time. Closed and open thimbles are available in multiple different materials, so you can choose the right style of sewing thimble for your hand sewing style.
Is the size 5 bigger than the size "Small"? I am trying to find out which is smaller because I bought a size 6 elsewhere and it is too big, it ends up almost mid finger.
Posting As
Please Note: Your answer will be displayed upon approval.
A:
The "Small" is a size 6. The Size 5 would indeed be smaller.
How does sizing work/run?
Posting As
Please Note: Your answer will be displayed upon approval.
A:
A size 5 has a inside diameter at the rim of 13.5mm, a size 7 of 15mm, a size 8 of 16mm, a size 10 of 17mm, a size 12 of 18mm, and the size 13 of 18.5mm.
How do you measure for a proper fitting thimble?
Posting As
Please Note: Your answer will be displayed upon approval.
A:
You should measure the circumference around the base of the nail on the finger your would like to use. Wrap a thin piece of paper around the base of your nail, measure the length of the paper from end to end in millimeters. This is the circumference of your finger. A circumference of 42.3 mm is a size 5, 45.5 mm is a size 6, 46.5 mm is a size 7, 50.2 mm us a size 8, 51.8 mm is a size 9, 53.3 mm is a size 10, 56.5 mm is a size 11, 57.3 mm is a size 12, 59.6 mm is a size 13.
No Results
November 09, 2020
Too large despite following sizing instructions
I followed the instructions in the size chart to measure my finger, the thimble is a bit large despite careful measurements. I guess I'll get a size smaller next time I order but I don't have much use for this one. Edit: Wawak contacted me and were very helpful!
Sorry it didn't work out. We'll contact you to see if we have something a bit better for your needs.
June 28, 2020
Perfect
This is great and perfect for my middle finger. It is not the flimsy metal that bends, it is the hard sturdy metal that you can tell is great quality. Just about to buy another one.
Thank you for your review.