Clover Protect & Grip Thimble - Small
{{resource("/ProductPage/Labels/StockNumber")}}

{{displayVariant.DisplayCode}}
{{resource("/ProductPage/Labels/List")}}
$8.95
---
{{resource("/ProductPage/Labels/Sale")}}
${{displayVariant.Price.PurchasePrice | toDisplayFormat}}
{{resource("/ProductPage/Labels/Was")}}
${{displayVariant.Price.WasPrice | toDisplayFormat}}
{{resource("/ProductPage/Labels/List")}}
${{displayVariant.Price.ListPrice | toDisplayFormat}}
{{displayVariant.PromotionalText}}
---
{{resource("/ProductPage/Labels/Options")}}
---
{{displayVariant.InventoryStatus}}
{{format(resource("/Shared/Label/EstimatedArrivalDate"),displayVariant.ShippingEstimate)}}
{{format(resource("/Shared/Label/BackOrderedEstimatedArrivalDate"),displayVariant.ShippingEstimate)}}
{{format(resource("/Shared/Label/DiscontinuedOutOfStockEstimatedArrivalDate"),displayVariant.ShippingEstimate)}}
{{resource("/ProductPage/Labels/VolumePricingHeader")}}
{{resource("/Shared/Label/QuantityTable/Qty")}}

{{volumePrice.Quantity}}+ {{resource("/Shared/Label/QuantityTable/Each")}}

{{volumePrice.Quantity}}+

{{resource("/Shared/Label/QuantityTable/Price")}}

${{volumePrice.Price.Amount | toDisplayFormat}}

{{resource("/Shared/Label/QuantityTable/Save")}}

—

{{volumePrice.Save | toDisplayFormat}}%
{{format(resource('/ProductPage/Labels/SoldInIncrementOf'),displayVariant.SoldInIncrements)}}
{{format(resource("/ProductPage/Labels/MinimumOrderQuantity"),displayVariant.MinimumOrderQuantity)}}
PROTECT YOUR FINGER.
The Clover Protect and Grip Thimble is made of flexible rubber for a gentle fit. They offer the perfect combination of soft, elastic material with the safety of a metal thimble cap. The scallop design offers breathability and keeps your finger cool. Its excellent elasticity helps the thimble form naturally to your fingertip for a light fit. The ridged and dimpled metal cap holds the needle tip in place and pushes needles in safely. This thimble provides comfort and lightness. Available in a variety of sizes.
Features
Provides comfort and lightness
Small is orange, medium is pink and large is yellow
Small is 14.5 mm (9/16"), medium is 15.5 mm (5/8") and large is 17 mm (21/32")
The scallop design keeps finger cool
Thimbles for Smooth Hand Sewing
We know that hand sewing takes time, and how important it is to make sure you have the right tools to do so quickly and comfortably. A must-have for every hand sewer, a Sewing Thimble is the tool to do just that. Thimbles are usually worn on the middle finger to push the needle through the fabric—doing so allows you to hand sew more quickly and with more dexterity and control. Choose from a variety of thimbles and finger shields, including Leather Thimbles, Metal Thimbles, or Plastic Thimbles, to help you create your best work yet.
Styles of Sewing Thimbles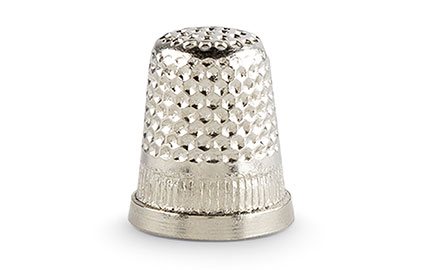 The Strongest Sewing Thimbles
Metal Thimbles are rigid and durable, great for hand sewing heavier fabrics and leather or vinyl. Available in Brass or Nickel-Plated Brass. Choose from open and closed styles.
Shop Now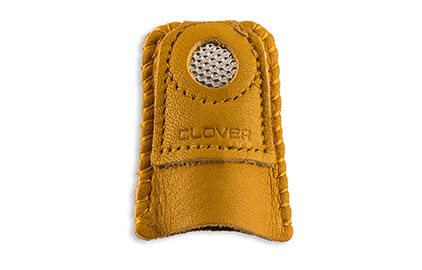 Sewing Thimbles with a Natural Fit
Leather Thimbles are durable yet flexible, and will mold to the shape of your finger over time for a more natural and comfortable fit. Choose from open and closed styles.
Shop Now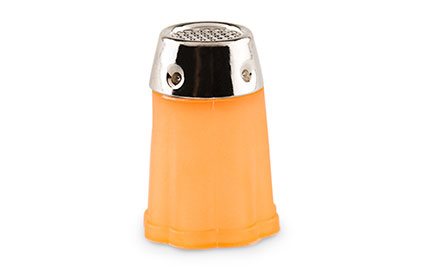 Flexible and Gentle Sewing Thimbles
Plastic Thimbles are the most flexible material, suited for hand sewing on light and medium materials. Available in several distinct styles for extra control and flexibility.
Shop Now
Open vs. Closed Sewing Thimbles
What is the difference between a closed and open thimble? Closed thimbles have a closed top, meaning they cover the whole fingertip. Closed Thimbles give the advantage of extra protection of the fingertip, and more of the middle finger can be used to push the needle through fabric. Open Thimbles, also known as Tailor's Thimbles, have an opening in the top which leaves the fingertip exposed, giving the wearer a bit more control and ability to manipulate fabric with the middle finger. The open top also prevents perspiration from collecting in the thimble when sewing for long periods of time. Closed and open thimbles are available in multiple different materials, so you can choose the right style of sewing thimble for your hand sewing style.