6" Serger Tweezers W/Serrated Tips
{{resource("/ProductPage/Labels/StockNumber")}}

{{displayVariant.DisplayCode}}
{{resource("/ProductPage/Labels/List")}}
$4.99
---
{{resource("/ProductPage/Labels/Sale")}}
${{displayVariant.Price.PurchasePrice | toDisplayFormat}}
{{resource("/ProductPage/Labels/Was")}}
${{displayVariant.Price.WasPrice | toDisplayFormat}}
{{resource("/ProductPage/Labels/List")}}
${{displayVariant.Price.ListPrice | toDisplayFormat}}
{{displayVariant.PromotionalText}}
---
{{resource("/ProductPage/Labels/Options")}}
---
{{displayVariant.InventoryStatus}}
{{format(resource("/Shared/Label/EstimatedArrivalDate"),displayVariant.ShippingEstimate)}}
{{format(resource("/Shared/Label/BackOrderedEstimatedArrivalDate"),displayVariant.ShippingEstimate)}}
{{format(resource("/Shared/Label/DiscontinuedOutOfStockEstimatedArrivalDate"),displayVariant.ShippingEstimate)}}
{{resource("/ProductPage/Labels/VolumePricingHeader")}}
{{resource("/Shared/Label/QuantityTable/Qty")}}

{{volumePrice.Quantity}}+ {{resource("/Shared/Label/QuantityTable/Each")}}

{{volumePrice.Quantity}}+

{{resource("/Shared/Label/QuantityTable/Price")}}

${{volumePrice.Price.Amount | toDisplayFormat}}

{{resource("/Shared/Label/QuantityTable/Save")}}

—

{{volumePrice.Save | toDisplayFormat}}%
{{format(resource('/ProductPage/Labels/SoldInIncrementOf'),displayVariant.SoldInIncrements)}}
{{format(resource("/ProductPage/Labels/MinimumOrderQuantity"),displayVariant.MinimumOrderQuantity)}}
QUALITY MADE SEWING NOTIONS.
6" serger tweezers with serrated tips and a secure lock. The bent end helps you get into areas with limited space. Used to clear up snagged threads and for inserting and threading needles. Made from high quality stainless steel.
Features
Bent tips with a secure lock
Reach areas with limited space
6" long
Styles of Sewing Tweezers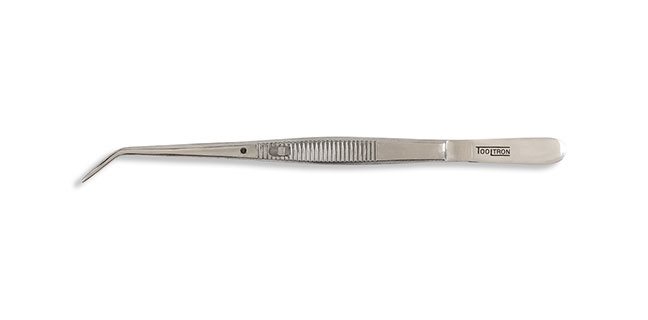 Serger Tweezers for Overlock Machines
Serger Tweezers are long and angled for use in threading serger or overlock machines.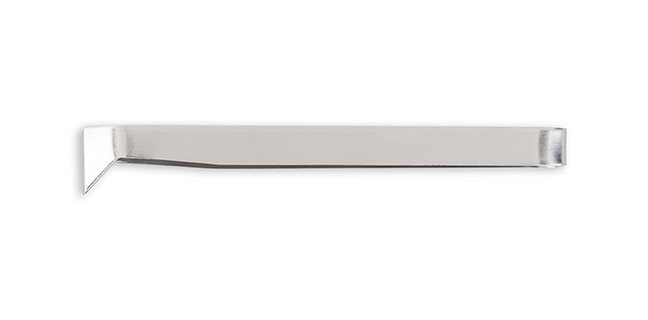 Muliti-Purpose Sewing Tweezers
Thread Tweezers have a shorter tip and are applicable for a variety of applications. Available in several styles with unique features.
Sewing Tweezers for Sergers, Thread and More
A helpful tool for any sewer to have on hand, Sewing Tweezers help you handle thread and other small components with precision. Serger Tweezers are a must-have for anyone with a serger or overlock machine to thread hard-to-reach loopers. Thread Tweezers are useful for a variety of applications, such as pulling threads when seam ripping, removing stabilizers and backing, clearing small pieces of lint or thread from a sewing machine, or handling small sewing or crafting elements, such as beads. Choose from a variety of these quality sewing notions to make your intricate work easier.
May 30, 2020
My favourite tweezers
I'm so glad I finally found these tweezers, they are identical to my 20+ year old favourites. Textured gripping teeth on fine points with a simple bent tip. Not cumbersome, not prone to dropping threads or pins. Great shape and style for threading awkward sergers and coverstitches.
Thank you for your review.
June 23, 2021
Would be perfect without the lock!
I find these ones cumbersome to use with my serger. Perhaps it comes down to what you're used to, but I find the lock a nuisance when I'm threading it.
Hello. We have credited your credit card under our 100% satisfaction guarantee policy. Thanks for your review.
April 17, 2021
The Lock is Annoying
The tweezers are pretty nice, but the lock is super annoying. They don't lock in a tight position (they're ever so slightly open), so they don't lock and hold threads. Thankfully, they can be removed or twisted so that they're out of the way while in use.
Hello! Thank you for reviewing this product.