WAWAK Plastic Sewing Clips - Standard - 1" x 3/8" - 100/Pack
{{resource("/ProductPage/Labels/StockNumber")}}

{{displayVariant.DisplayCode}}
$5.95
{{resource("/ProductPage/Labels/List")}}
$9.59
---
{{resource("/ProductPage/Labels/Sale")}}
${{displayVariant.Price.PurchasePrice | toDisplayFormat}}
{{resource("/ProductPage/Labels/Was")}}
${{displayVariant.Price.WasPrice | toDisplayFormat}}
{{resource("/ProductPage/Labels/List")}}
${{displayVariant.Price.ListPrice | toDisplayFormat}}
{{displayVariant.PromotionalText}}
---
{{resource("/ProductPage/Labels/Options")}}
---
{{displayVariant.InventoryStatus}}
{{format(resource("/Shared/Label/EstimatedArrivalDate"),displayVariant.ShippingEstimate)}}
{{format(resource("/Shared/Label/BackOrderedEstimatedArrivalDate"),displayVariant.ShippingEstimate)}}
{{format(resource("/Shared/Label/DiscontinuedOutOfStockEstimatedArrivalDate"),displayVariant.ShippingEstimate)}}
{{resource("/ProductPage/Labels/VolumePricingHeader")}}
{{resource("/Shared/Label/QuantityTable/Qty")}}

{{volumePrice.Quantity}}+ {{resource("/Shared/Label/QuantityTable/Each")}}

{{volumePrice.Quantity}}+

{{resource("/Shared/Label/QuantityTable/Price")}}

${{volumePrice.Price.Amount | toDisplayFormat}}

{{resource("/Shared/Label/QuantityTable/Save")}}

—

{{volumePrice.Save | toDisplayFormat}}%
{{format(resource('/ProductPage/Labels/SoldInIncrementOf'),displayVariant.SoldInIncrements)}}
{{format(resource("/ProductPage/Labels/MinimumOrderQuantity"),displayVariant.MinimumOrderQuantity)}}
QUALITY MADE SEWING NOTIONS.
A tin of 100 small, multi-colored plastic sewing clips with a wide opening that can be used to hold multiple layers of fabric, piles, and vinyl in place for sewing. They make a great alternative to pins when you don't want to leave pin marks or are working with heavy fabric. They can be used for a variety of purposes in the workroom, from securing seams to organizing supplies. Small size measures 1" x 3/8" with a 3/8" opening.
Features
Clips hold multiple layers of fabric while sewing
Wide opening
Tin of 100 clips
Eliminate the need for pinning
Product Specifications
Size / Dimension:
1" L x 3/8" W with 3/8" Opening
Choose From Two Sizes of Sewing Clips
Standard Sewing Clips
Standard fabric clips ideal for keeping layers of fabric secure. Each standard clip measures 1" x 3/8" with a 3/8" opening. Comes in an attractive tin and assorted rainbow of 8 colors. Keep these just an arms reach away!
Shop Now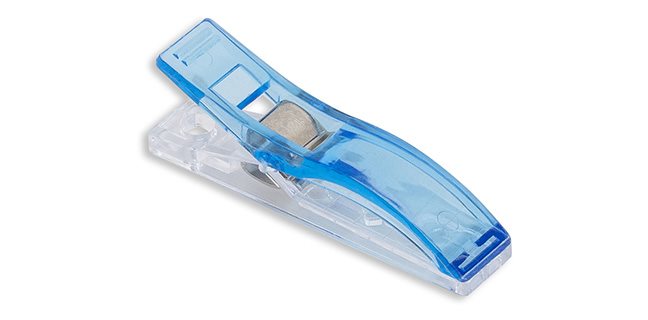 Large Sewing Clips
Larger fabric clips with more reach, good for projects with thickly rolled fabrics or multiple layers. Each large clip measures 2 1/4" x 1/2" with a 5/8" opening. Comes in an attractive tin and an assortment of 8 colors. So handy!
Shop Now
Sewing Clips Keep Fabrics Secure
WAWAK Sewing Clips hold fabrics secure without the hassle of pinning. Keep multiple layers of fabric in place, clip patterns to fabric, or hold craft materials together with ease using these quality fabric clips. WAWAK Sewing Clips are ideal for fabrics that retain holes when punctured by a pin, like vinyl and delicate silks. The clip easily opens wide and holds securely, making them an excellent choice for heavy fabrics, pile fabrics, or bias binding. Add these lightweight and convenient WAWAK clips to your sewing toolkit to have a convenient way to secure multiple layers of materials quickly and easily.
Sewing Clips vs Pins
Sewing Pins and Fabric Clips are two great tools to have in any tailor's toolkit for holding multiple layers of fabric together. Each has its advantages, depending on the project and fabric type. Some fabrics and materials like vinyl, cork, or delicate silks will retain holes if punctured—and others just don't hold together well with pins. A sewing clip is a great way to fasten these types of materials without the need for pinning. Sewing Clips also offer the advantages of being extra easy to see and grab. Pins, on the other hand, allow you to be more precise in your pinning. They are also less bulky than clips and may be more secure for materials especially prone to shifting, like elastics. It is also possible to safely iron over some sewing pins. Many sewers find that having both sewing clips and pins on hand is helpful to use each for different applications.