Non-Woven Wedding Gown Garment Bag W/ 6"- 24" Gusset - 25 Grams - 72" x 24" W/36" Flair - Pink
{{resource("/ProductPage/Labels/StockNumber")}}

{{displayVariant.DisplayCode}}
{{resource("/ProductPage/Labels/List")}}
$9.50
---
{{resource("/ProductPage/Labels/Sale")}}
${{displayVariant.Price.PurchasePrice | toDisplayFormat}}
{{resource("/ProductPage/Labels/Was")}}
${{displayVariant.Price.WasPrice | toDisplayFormat}}
{{resource("/ProductPage/Labels/List")}}
${{displayVariant.Price.ListPrice | toDisplayFormat}}
{{displayVariant.PromotionalText}}
---
{{resource("/ProductPage/Labels/Options")}}
---
{{displayVariant.InventoryStatus}}
{{format(resource("/Shared/Label/EstimatedArrivalDate"),displayVariant.ShippingEstimate)}}
{{format(resource("/Shared/Label/BackOrderedEstimatedArrivalDate"),displayVariant.ShippingEstimate)}}
{{format(resource("/Shared/Label/DiscontinuedOutOfStockEstimatedArrivalDate"),displayVariant.ShippingEstimate)}}
{{resource("/ProductPage/Labels/VolumePricingHeader")}}
{{resource("/Shared/Label/QuantityTable/Qty")}}

{{volumePrice.Quantity}}+ {{resource("/Shared/Label/QuantityTable/Each")}}

{{volumePrice.Quantity}}+

{{resource("/Shared/Label/QuantityTable/Price")}}

${{volumePrice.Price.Amount | toDisplayFormat}}

{{resource("/Shared/Label/QuantityTable/Save")}}

—

{{volumePrice.Save | toDisplayFormat}}%
{{format(resource('/ProductPage/Labels/SoldInIncrementOf'),displayVariant.SoldInIncrements)}}
{{format(resource("/ProductPage/Labels/MinimumOrderQuantity"),displayVariant.MinimumOrderQuantity)}}
ADD AN EXTRA SPECIAL TOUCH.
Our non-woven gown garment bag with gusset measures 24" (W) and flairs to 36"x 72" (L). It features a full length zipper and pocket. Available in a variety of colors.
Features
Non-woven polyester
Protects gowns from dust and dirt
Includes clear pocket to hold sales ticket or invoices
Pocket measures 5" x 7"
Hanger hole on top of bag
Great for bridal gowns with long trains and full skirts
Product Specifications
Material:
Non-Woven Polypropylene
Size / Dimension:
72"L x 24-36"W x 6-24" H x 1 3/8" Gusset
Protect Gowns with a Garment Bag
Keep bridal gowns and other formal wear in top condition while in transit or in storage using a Gown Garment Bag. Available in non-woven, muslin, or plastic varieties, these dress bags are ideal for preventing wrinkles, creasing, or fabric damage in transit or storage. Choose from several gown-length options to find the perfect fit for your garment. For bulkier gowns or storing multiple garments in one bag, several gusset options are also available to provide the garment bag with more volume.
Gown Garment Bag Materials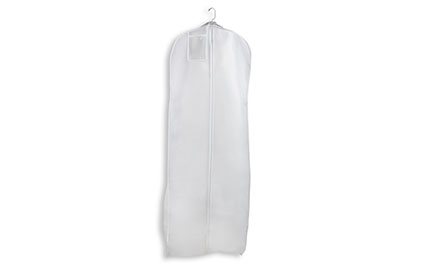 Non-Woven Gown Bags
Non-Woven Gown Bags are made from polyester. Great for transporting gowns and returning them to customers, including a front pocket to hold sales tickets or invoices. Available with or without a built-in gusset for extra width.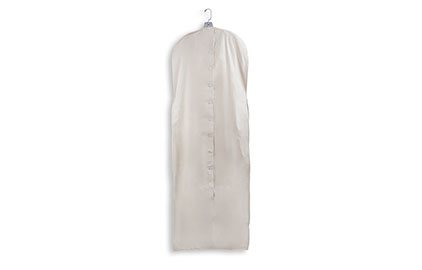 Muslin Gown Bags
Muslin Gown Garment Bags are high quality and long-lasting, great for keeping gowns or multiple garments in long-term storage. Breathable, acid-free, and moth-resistant to keep out humidity, dust, and other contaminants and prevent discoloration or mildew over time.