Eco Friendly Perforated Poly Garment Bags - .6 Mil. - 21" x 4" x 38" - 552/Roll - Clear
{{resource("/ProductPage/Labels/StockNumber")}}

{{displayVariant.DisplayCode}}
{{resource("/ProductPage/Labels/Sale")}}
${{displayVariant.Price.PurchasePrice | toDisplayFormat}}
{{resource("/ProductPage/Labels/Was")}}
${{displayVariant.Price.WasPrice | toDisplayFormat}}
{{resource("/ProductPage/Labels/List")}}
${{displayVariant.Price.ListPrice | toDisplayFormat}}
{{displayVariant.PromotionalText}}
---
{{resource("/ProductPage/Labels/Options")}}
---
{{displayVariant.InventoryStatus}}
{{format(resource("/Shared/Label/EstimatedArrivalDate"),displayVariant.ShippingEstimate)}}
{{format(resource("/Shared/Label/BackOrderedEstimatedArrivalDate"),displayVariant.ShippingEstimate)}}
{{format(resource("/Shared/Label/DiscontinuedOutOfStockEstimatedArrivalDate"),displayVariant.ShippingEstimate)}}
{{resource("/ProductPage/Labels/VolumePricingHeader")}}
{{resource("/Shared/Label/QuantityTable/Qty")}}

{{volumePrice.Quantity}}+ {{resource("/Shared/Label/QuantityTable/Each")}}

{{volumePrice.Quantity}}+

{{resource("/Shared/Label/QuantityTable/Price")}}

${{volumePrice.Price.Amount | toDisplayFormat}}

{{resource("/Shared/Label/QuantityTable/Save")}}

—

{{volumePrice.Save | toDisplayFormat}}%
{{format(resource('/ProductPage/Labels/SoldInIncrementOf'),displayVariant.SoldInIncrements)}}
{{format(resource("/ProductPage/Labels/MinimumOrderQuantity"),displayVariant.MinimumOrderQuantity)}}
Protect your garments.
High-quality EcoMax plastic garment bags used to protect garments. Opening at the top for a hanger to slide through. Comes in 0.6 mil. thickness. Safety warning against suffocation is printed on each bag in English/Spanish as well as a recycle symbol. When kept out of sunlight, the film has a 9 month shelf life before it starts to degrade. In the presence of oxygen, the degradation process can take about 15 months after the initial 9 month period. Available in a variety of sizes and quantities. Price subject to change.
Features
High-quality
Degradable film compliant with ASTM D694-04
Ideal for suits, shirts and jackets
Opening at top for a hanger to slide through
100% recyclable
Product Specifications
Size / Dimension:
21" L x 4" W x 38" H
Protect Garments with a Poly Garment Bag
Keep suits, gowns, and other garments in top condition with a poly garment bag. These clear and colored plastic dress bags protect garments from dust or moisture while in storage or transit. Find Plastic Garment bags in bulk for your business, available in perforated, non-perforated, and eco-friendly styles, as well as a variety of sizes, thicknesses, and colors.
Available Styles of Continuous Roll Poly Bags For Clothing
Perforated Poly Bags
Perforated Poly Bags are a continuous roll of perforated suit, jacket, or dress bags. Each is easy-tear pre-sized perforated bag has a hanger opening Available in multiple lengths, colors, and thicknesses.
SHOP NOW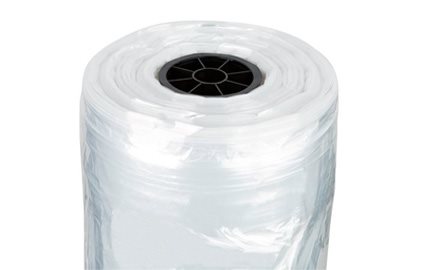 Eco-Friendly Poly Bags
Our Eco-Friendly Perforated Poly Garment Bags are continuous roll garment bags with a biodegradable plastic film. Bags are pre-sized and perforated for convenience. Available in several lengths.
SHOP NOW
Unperforated Poly Bags
Use Non-Perforated Poly Garment Bags to cut garment bags to your own preferred length. Perfect for dresses, gowns, suits and more. Available in a variety of lengths, thicknesses, and colors.
SHOP NOW
Poly Bag Thickness and Sizing
To determine what size and thickness of Poly Garment bag to use, take into consideration what garments you will primarily be using them for. Heavy-Weight Poly Garment Bags (1-1.1mil.) will be better suited for heavier garments like gowns, or more easily damaged garments that require extra protection. Regular-Weight Poly Bags (.6-.7mil) would be more suited for medium and lightweight garments. For sizing, take into consideration the length and thickness of garments, and the number of garments that would typically be included in one bag.