Velcro Sew-On Soft & Flexible - 30" x 5/8" - Black
{{resource("/ProductPage/Labels/StockNumber")}}

{{displayVariant.DisplayCode}}
$2.48
{{resource("/ProductPage/Labels/List")}}
$2.79
-
$3.89
---
{{resource("/ProductPage/Labels/Sale")}}
${{displayVariant.Price.PurchasePrice | toDisplayFormat}}
{{resource("/ProductPage/Labels/Was")}}
${{displayVariant.Price.WasPrice | toDisplayFormat}}
{{resource("/ProductPage/Labels/List")}}
${{displayVariant.Price.ListPrice | toDisplayFormat}}
{{displayVariant.PromotionalText}}
---
{{resource("/ProductPage/Labels/Options")}}
---
{{displayVariant.InventoryStatus}}
{{format(resource("/Shared/Label/EstimatedArrivalDate"),displayVariant.ShippingEstimate)}}
{{format(resource("/Shared/Label/BackOrderedEstimatedArrivalDate"),displayVariant.ShippingEstimate)}}
{{format(resource("/Shared/Label/DiscontinuedOutOfStockEstimatedArrivalDate"),displayVariant.ShippingEstimate)}}
{{resource("/ProductPage/Labels/VolumePricingHeader")}}
{{resource("/Shared/Label/QuantityTable/Qty")}}

{{volumePrice.Quantity}}+ {{resource("/Shared/Label/QuantityTable/Each")}}

{{volumePrice.Quantity}}+

{{resource("/Shared/Label/QuantityTable/Price")}}

${{volumePrice.Price.Amount | toDisplayFormat}}

{{resource("/Shared/Label/QuantityTable/Save")}}

—

{{volumePrice.Save | toDisplayFormat}}%
{{format(resource('/ProductPage/Labels/SoldInIncrementOf'),displayVariant.SoldInIncrements)}}
{{format(resource("/ProductPage/Labels/MinimumOrderQuantity"),displayVariant.MinimumOrderQuantity)}}
For crafts and home décor.
Sew On Soft and Flexible Velcro is a gentle, more comfortable fastener. The soft loop knit provides a low profile closure. It is ideal for light-weight fabrics and garments such as infant and doll clothing. Perfect for easy to use closures for fabric crafts, clothes and accessories. Fasteners are machine washable and dry cleanable. Measures 5/8" x 30". Available in a variety of colors.
Features
Soft to the touch
Sew on
Comfortable and pliable
Machine washable and dry cleanable
Product Specifications
Size / Dimension:
30" L x 5/8" W
Sewing Hook & Loop Fasteners
To sew Hook and Loop Tape, first cut it to the desired length. You'll want to use a thicker needle to sew Hook and Loop tape—many people find that a size 14 or 16 needle will work, but be sure to test your needle by piercing a scrap piece of tape to make sure it is strong enough to puncture it. To attach the Hook and Loop Tape, simply sew around the edges (not through the actual hook or loop part of the material) and backstitch to secure.
Sew-On vs. Adhesive Hook and Loop Fasteners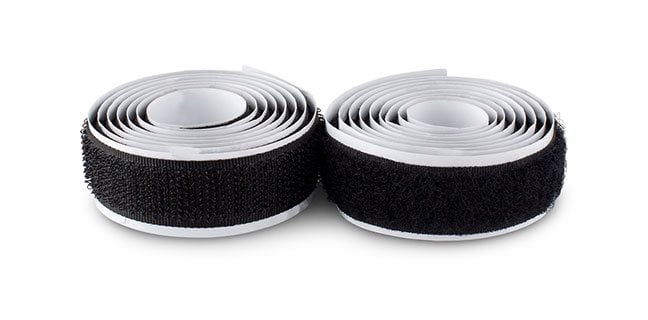 Adhesive Hook & Loop Fasteners
Adhesive Fasteners are easy to apply, as they simply stick to surfaces using an adhesive. Adhesive fasteners are great for smooth surfaces, making them a great choice for crafts, home décor, and sewing room applications.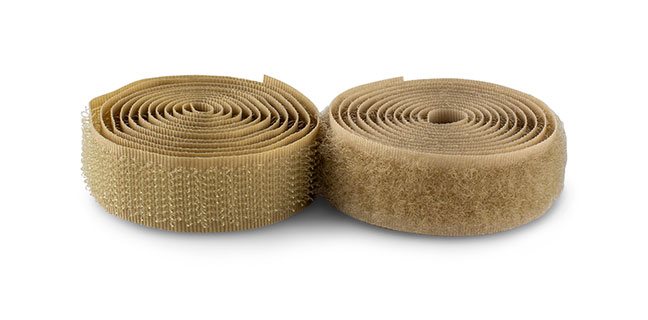 Sew-On Hook & Loop Fasteners
Sew-On Hook and Loop fasteners have no adhesive and are meant for attaching to fabric. Sew-on tape is great for garments, pouches, handbags and other sewing applications.
Hook & Loop Tape For Any Project
Hook and Loop Fasteners are easy to use and easy to apply—a convenient closure for bags, pouches, garments, crafting and sewing room applications, and more. Hook and Loop tape can be used in place of buttons or zippers on certain closures, and can be used to attach a range of surfaces together. Hook and Loop Tape is Machine Washable and Dry-Clean Safe. Available in a variety of styles and sizes.