Magnetic Pin Wand
{{resource("/ProductPage/Labels/StockNumber")}}

{{displayVariant.DisplayCode}}
{{resource("/ProductPage/Labels/List")}}
$3.99
---
{{resource("/ProductPage/Labels/Sale")}}
${{displayVariant.Price.PurchasePrice | toDisplayFormat}}
{{resource("/ProductPage/Labels/Was")}}
${{displayVariant.Price.WasPrice | toDisplayFormat}}
{{resource("/ProductPage/Labels/List")}}
${{displayVariant.Price.ListPrice | toDisplayFormat}}
{{displayVariant.PromotionalText}}
---
{{resource("/ProductPage/Labels/Options")}}
---
{{displayVariant.InventoryStatus}}
{{format(resource("/Shared/Label/EstimatedArrivalDate"),displayVariant.ShippingEstimate)}}
{{format(resource("/Shared/Label/BackOrderedEstimatedArrivalDate"),displayVariant.ShippingEstimate)}}
{{format(resource("/Shared/Label/DiscontinuedOutOfStockEstimatedArrivalDate"),displayVariant.ShippingEstimate)}}
{{resource("/ProductPage/Labels/VolumePricingHeader")}}
{{resource("/Shared/Label/QuantityTable/Qty")}}

{{volumePrice.Quantity}}+ {{resource("/Shared/Label/QuantityTable/Each")}}

{{volumePrice.Quantity}}+

{{resource("/Shared/Label/QuantityTable/Price")}}

${{volumePrice.Price.Amount | toDisplayFormat}}

{{resource("/Shared/Label/QuantityTable/Save")}}

—

{{volumePrice.Save | toDisplayFormat}}%
{{format(resource('/ProductPage/Labels/SoldInIncrementOf'),displayVariant.SoldInIncrements)}}
{{format(resource("/ProductPage/Labels/MinimumOrderQuantity"),displayVariant.MinimumOrderQuantity)}}
Dritz has ideas that inspire, products that make and techniques that endure.
The Dritz magnetic pin wand is used for sewing needles and pins, paper clips, tacks, nails, bolts, screws and more. It allows for quick and safe pick-up of small metal objects. Do not place magnetic materials near computers, discs, DVD's, credit cards or other items that are sensitive to magnets. Do not place directly on computerized sewing machines.
Features
Quick and safe pickup of small metal objects for your home, office or shop
Great for sewing needles, pins, paper clips, nails, bolts and screws
Stylish design with a powerful magnet
Do not place near computers
Product Specifications
Material:
Plastic covered magnet
Magnetic Pin Cushions
Keep track of pins easily and quickly with a magnetic pin holder for sewing. Choose from several styles of magnetic pin accessories, helpful for keeping track of straight pins, quilter's pins, and needles. Magnetic pin cushions, wristbands, and wands contain a strong magnet perfect for keeping metal pins in place. They can also be used to help pick up pins safely from surfaces.
Pin Holder Styles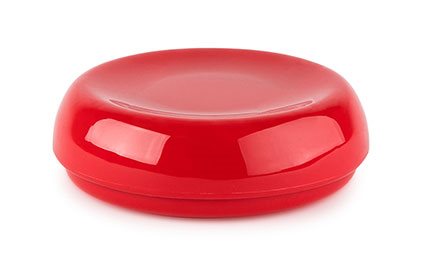 Magnetic Pin Holders
Use a Magnetic Pin Holder to pick up and keep track of pins and needles easily. A handy addition to any sewing table, Magnetic Pin Accessories can be used to keep pins in place or pick up stray pins, helping you keep your workspace clear.
Shop Now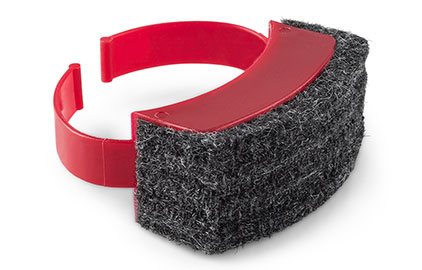 Wrist Pin Cushions
Safely keep pins and needles at your fingertips with a Wrist Pin Cushion. A very portable option, great for tailoring, quilting, or other projects where you might move around as you work. Keep pins always within reach with a Wrist Pin Cushion.
Shop Now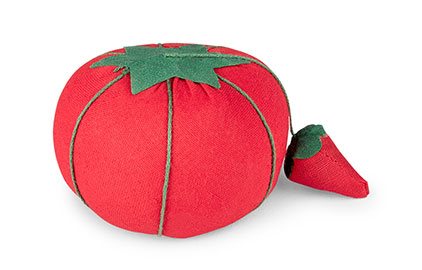 Tomato Pin Cushions
The classic pin cushion, and a staple of every sewing kit, a Tomato Pin Cushion is a lightweight and convenient choice that's easy to bring with you anywhere. Keep track of pins of any shape and size with a Tomato Pin Cushion.
Shop Now